Enneagram Type 8 Instinctual Subtypes: SP 8, SX 8, SO 8
---
---
The core focus of Enneagram type 8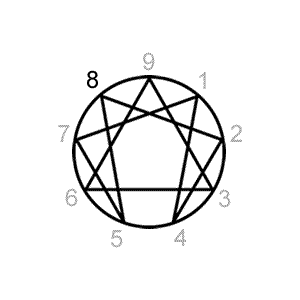 Freedom is never voluntarily given by the oppressor; it must be demanded by the oppressed.
- Martin Luther King, Jr.
Type 8 Initial Self-Belief: "I am disempowered as I am."

Type 8 Compensation: "I must be direct in going after what I want and stand strong against being controlled or taken advantage of."
Type 8 Core Focus: Empowerment comes from being in control and not being controlled by people or rules. This requires that I confront obstacles and people that are in my way and move directly toward what I want. Don't show weakness in a world that takes advantage of innocence and vulnerability.

Personality characteristics that might arise from the type 8 core focus include:

Takes action decisively and sometimes impulsively
Fills up the space around them with their presence and big energy
Speaks directly and bluntly when making a point
Often guards against vulnerability by denying softer emotions
Naturally assumes role of leadership when there's a power vacuum
Directly confronts others to reveal the truth of a situation
Protects or seeks justice for those unfairly taken advantage of
Anger arises in service of making things happen/getting things moving
Prefers to make their own rules rather than follow others' rules
---
Enneagram type 8 instinctual subtypes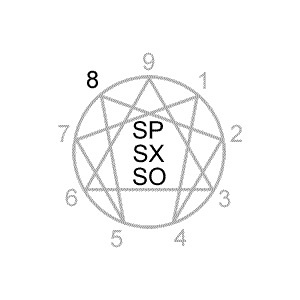 SP 8 - Satisfactory Survival, Satisfaction: takes a direct approach in getting what they want; gets frustrated and intolerant of obstacles that get in the way; accumulates territory and material resources to assure satisfactory survival.

SX 8 - Surrender, Possession: rebelliously asserts their "truth" or "way" in place of the rules or norms; wants others to surrender control, wants to dominate others and surroundings; can have difficulty letting go of what's been "possessed" or taken under their control.

SO 8 - Friendship, Solidarity (counter-type): seeks advantage and influence through associations and alliances; defends those under their protection from injustice, unfairness, and harm; appears more friendly, generous, and less aggressive than other type 8 subtypes.
---
What Enneagram authors say about type 8 instinctual subtypes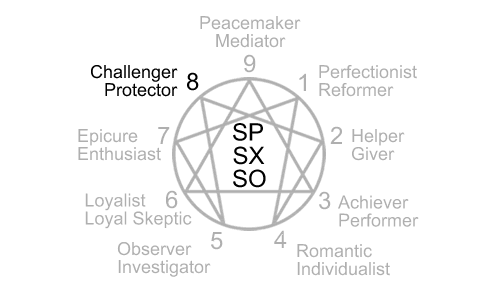 ---
---
Enneagram Tests to Help Determine Instinct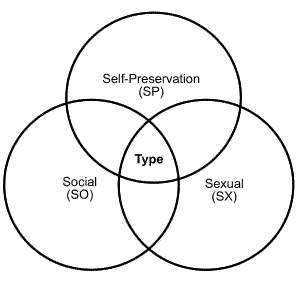 Instinctual Subtype Test
This test compares the three instinctual subtypes for a given type.
Use when you know your type and want to find your instinctual subtype for that type.

Instinctual Variant Stacking Test
This test ranks the three instincts to determine your preferential order of the instincts.
Use when you want to know your instinctual variant stacking independent of type.
---
To learn more about Enneagram personality type 8 click here.
---
Click here to learn more about the nine Enneagram personality types, type variations, type origins, and how the types use the Enneagram symbol.
Click here for additional Enneagram tests on type, wing, instinct, and centers.
---