Enneagram Type 7 Instinctual Subtypes: SP 7, SX 7, SO 7
---
---
The core focus of Enneagram type 7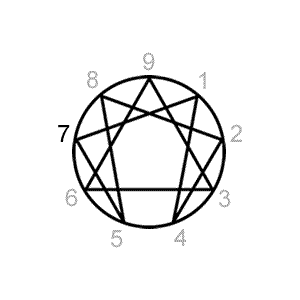 Follow your bliss and the universe will open doors where there were only walls.
- Joseph Campbell
Type 7 Initial Self-Belief: "I am not satisfied as I am."

Type 7 Compensation: "I must stay open to exciting possibilities that may become available in life and avoid limitations on my pursuits."
Type 7 Core Focus: Enthusiasm comes from possibilities that lead to something interesting, exciting, or satisfying. This requires that I anticipate whether a path might lead to something positive or negative. The positives are pursued while the negatives are avoided, reframed, or escaped from.

Personality characteristics that might arise from the type 7 core focus include:

Likes to keep options open for fear of missing out in life
Escapes pain and boredom by quickly moving on to something else
Avoids commitments/obligations that feel limiting and restrictive
Equalizes relationships with authority to avoid being limited by them
Attempts to lighten up situations when they become too serious
Mind quickly jumps between possibilities when excited about an idea
Lives in anticpation of fun and exciting future possibilities
Difficulties following through to completion on projects
Skates on the surface of feelings for fear of getting stuck in them
---
Enneagram type 7 instinctual subtypes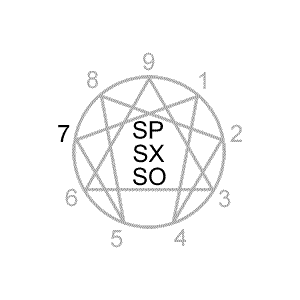 SP 7 - Like-Minded, Family:: networks with like-minded people who support self-interests; on the lookout for opportunities that satisfy their interests and needs; finds good justification for behavior in pursuit of self-interests.

SX 7 - Fascination, Suggestibility: lured or pulled by imaginings or fantasies that embellish reality; an optimism of someone who's in love; can be easily overtaken by enthusiasm and fascination for an ideal.

SO 7 - Sacrifice (counter-type): postpones or defers desires and gratification in favor of pursuing an ideal; moved by duty and recognition toward service of humanity; seeks recognition and applause for being good according to social consensus.
---
What Enneagram authors say about type 7 instinctual subtypes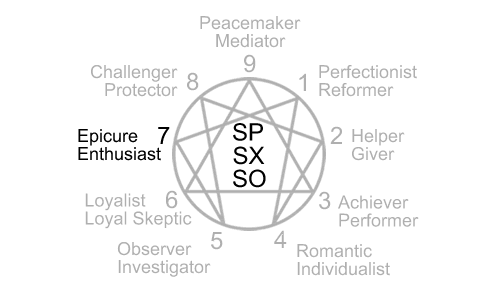 ---
---
Enneagram Tests to Help Determine Instinct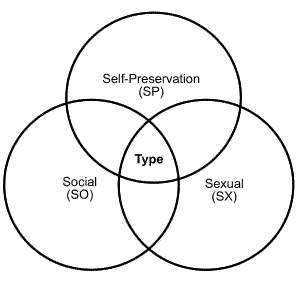 Instinctual Subtype Test
This test compares the three instinctual subtypes for a given type.
Use when you know your type and want to find your instinctual subtype for that type.

Instinctual Variant Stacking Test
This test ranks the three instincts to determine your preferential order of the instincts.
Use when you want to know your instinctual variant stacking independent of type.
---
To learn more about Enneagram personality type 7 click here.
---
Click here to learn more about the nine Enneagram personality types, type variations, type origins, and how the types use the Enneagram symbol.
Click here for additional Enneagram tests on type, wing, instinct, and centers.
---