Personality traits of Enneagram type 5: Ennea-type V - Seeking Wholeness through Isolation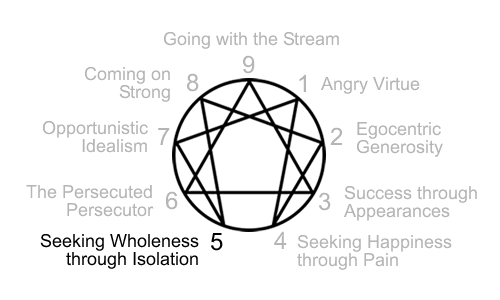 Seeking Wholeness through Isolation - Avarice and Pathological Detachment

Retentiveness
Not Giving
Pathological Detachment
Fear of Engulfment
Autonomy
Feelinglessness
Postponement of Action
Cognitive Orientation
Sense of Emptiness
Guilt
High Superego
Negativism
Hypersensitivity
---
To learn more about Enneagram personality type 5 click here.
---
Click here for the Complete Guide to the Enneagram.
This free guide explains
the nine Enneagram personality types
the many type variations within type
where the types came from (origins and history)
how the types use the Enneagram symbol
Click here for Enneagram tests.
These free tests help you find your
primary type
candidate types
preferred wing
intinctual subtype
instinctual variant stacking
center types (gut, heart, and head)
tri-center with wings
---