Enneagram Type 1 Instinctual Subtypes: SP 1, SX 1, SO 1
---
---
The core focus of Enneagram type 1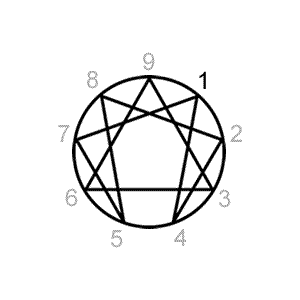 Freedom consists not in doing what we like, but in having the right to do what we ought.
- Pope John Paul II
Type 1 Initial Self-Belief: "I am unacceptable as I am."

Type 1 Compensation: "I must monitor, correct, and improve myself in order to be acceptable and remain above criticism."
Type 1 Core Focus: Acceptability comes from doing things right and acting appropriately according to internalized standards for what that is. This requires I discern what's right and monitor, correct, and improve my behavior so I don't fall short of these standards. Others should do the same.

Personality characteristics that might arise from the type 1 core focus include:

Monitors and corrects self-behavior by way of an Inner Critic
Avoids making mistakes that can be criticized by others
Compares the world to standards for how things should be
Tends to look for one right way of doing things
Strives toward an ideal of perfection
Attention goes to what needs to be corrected or improved
Critical of others when they disregard implied rules of behavior
Tries to be good by modeling appropriate behavior
Feels responsible for getting things right
---
Enneagram type 1 instinctual subtypes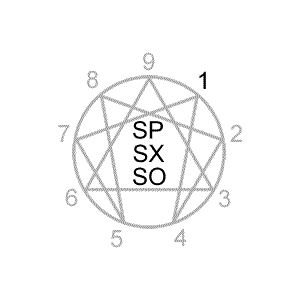 SP 1 - Worry, Anxiety: worries about consequences resulting from things not being done right; avoids mistakes and doing things wrong so as not to be personally blamed or criticized; obsesses about details and likes to be prepared.

SX 1 - Zeal, Jealousy (counter-type): desire to reform people or society to the "right way" to be or do; feels entitled to what's been "earned" through hard work and high ideals; angry and resentful of those who haven't earned what they receive.

SO 1 - Rigidity, Non-Adaptable: already knows the "right way" so no need to adapt to what others say is "right"; provides example by modeling how one should be; sense of superiority can come from criticality of others for not behaving the right way.
---
What Enneagram authors say about type 1 instinctual subtypes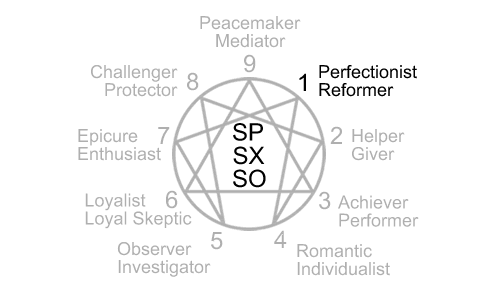 ---
---
Enneagram Tests to Help Determine Instinct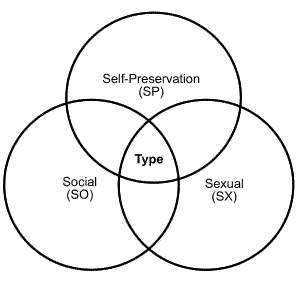 Instinctual Subtype Test
This test compares the three instinctual subtypes for a given type.
Use when you know your type and want to find your instinctual subtype for that type.

Instinctual Variant Stacking Test
This test ranks the three instincts to determine your preferential order of the instincts.
Use when you want to know your instinctual variant stacking independent of type.
---
To learn more about Enneagram personality type 1 click here.
---
Click here for the Complete Guide to the Enneagram.
This free guide explains
the nine Enneagram personality types
the many type variations within type
where the types came from (origins and history)
how the types use the Enneagram symbol
Click here for Enneagram tests.
These free tests help you find your
primary type
candidate types
preferred wing
intinctual subtype
instinctual variant stacking
center types (gut, heart, and head)
tri-center with wings
---